The Eyelash Bar

•

Eyelash Extensions

Lash Extend

The stars from Hollywood have preceded us for years but eyelash extension with Eyelash extensions is here to stay ...

You should actually see or experience the effect of eyelash extensions with your own eyes. It looks very natural, beautiful and glamorous, as if you have been blessed with long eyelashes or that you have used some miracle mascara. Once you start, you don't want to see yourself without it anymore. You can choose to make your lashes longer and fuller, but you can also choose to just make them full. It looks like you only wear mascara. There is a difference between the thin lashes and the somewhat thicker lashes. The thin eyelashes give a very natural effect, if you leave them as short as your own eyelashes it looks like you have put on a little bit of mascara in the morning. If you let them last longer, it looks like you have beautiful long natural lashes of your own. The thicker lashes really ensure a good mascara effect.

The advantage is also that you practically no longer have to make up your eyes. The eyelashes are so black in themselves that it makes mascara superfluous. You can still make up with eye shadow or eye pencil if you wish. You can also easily remove this in the evening with make-up remover. You also have a difference in curl of the eyelash. If you already have a little less curl of yourself, we will make it into a beautiful curl, you will not see your own hairs through it.

Eyelash Extensions are also perfect for the holidays, simply because you no longer have to worry about them and you do not risk coming out of the sea or the swimming pool with your mascara and eye pencil running out. Velvety and sensual lashes without mascara. Waking up in the morning with sultry framed eyes. Eyelash Extensions is the global trend! Ideal for the woman who does not want to put on make up every morning but still wants to look great. In short, the long lashes that every woman dreams of!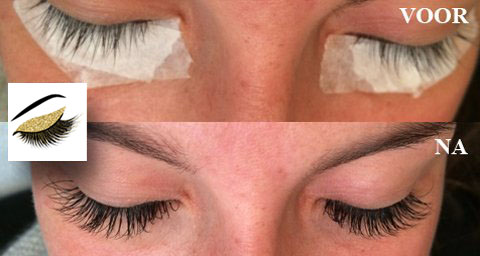 Before and after example of Eyelash Extensions
The Eyelash Extension takes about 60 to 75 minutes. The Eyelash Extensions are attached one by one to your own eyelash hairs with a formaldehyde-free high performance adhesive specially developed for this procedure. This method cannot be compared with the so-called clusters, lash pieces or lash strips and will remain in place for around 6 to 8 weeks. After about 2 to 3 weeks, a refill is recommended for optimum results.
Misencil Eyelash Extensions
We would like to introduce you to the newest brand of Eyelash Extensions; Misencil (also called Mrs. Lash in French). This brand is produced in Canada. And with regard to Canada, the safety and health rules regarding ingredients are always at the top.
From the start Misencil has won many prizes with all kinds of products. The great thing about this brand is that it was produced by an eye doctor and tested in a laboratory. All products contain green apple stem cells, which promote the growth and health of natural eyelash hairs.
The overall treatment is much more luxurious than other lash treatments. There is also the possibility to purchase products for yourself after the treatment. Such as an eyelash curler for extensions, and an eye gel with massage tool for the skin and the eyes.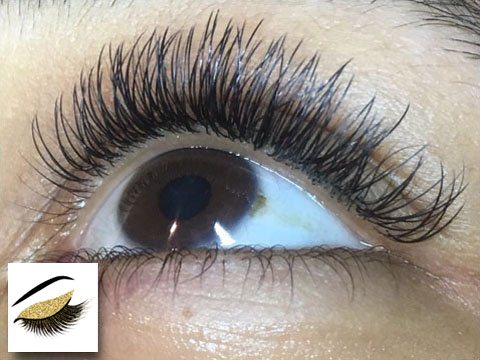 Misencil - example of one by one ultra soft Eyelash Extensions
What is most innovative with this brand is that an adhesive has been developed so that people with allergies to eyelash glue can also wear them. Even people with sensitive eyes should not have any problems with this.
Misencil eyelashes are different from all other eyelash extensions. You can create a 3D effect with a one by one technique. This is because the weight of the hairs is many times lighter but they still gives the same effect in terms of hair thickness as with a mascara look, for example.
The benefits of Lash Extend and Misencil Eyelash Extensions at a glance:

- Beautiful, full and long eyelashes every moment of the day for a beautiful pronounced glance
- Natural appearance
- Length, thickness and curve adapted to your wishes
- Practically weightless, you don't feel the extensions
- Resistant to water, body moisture, light, sun and sea
- No damage to your own natural eyelashes
- No flaring mascara in rain or perspiration
- Makes mascara, eyelash paint or an eyelash curler unnecessary
- No tufts/bunches of eyelashes glued together or eyelash strips
- Is applied painlessly
- Exercise, shower, swim and sleep without worrying about your eyelashes
- Stays for 6 to 8 weeks


The Eyelash Bar

• 3D and Russian Volume Eyelash Extensions

3D Eyelash Extensions are a Russian Volume technique. We create a 3D fan with ultra-thin hairs (4x as thin as the one-by-one hairs). That looks like this: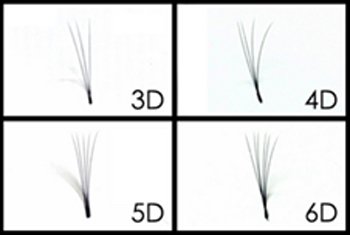 Top left shows what a 3D fan looks like. Because the eyelash extensions that we use have a weight of 0.05, the 3 hairs together are still lighter in weight than 1 one by one hair. As a result, the extensions feel ultra soft and stay in place longer. You only have to fill up after 4-6 weeks.
This technique is slightly more expensive due to the quality and the manual work for the technique itself.
The Eyelash Bar

•

Lash Lifting

(Eyelash lifting)

Lash lifting is the new way to give your natural lashes a permanent curl. Are you looking for something where you do not need eyelash extensions or a eyelash curler? Then this is the solution. By means of 3 lotions we get your own curl from your eyelashes, then we form a new desired curl, and then we feed the hairs with keratin.

During the treatment we can paint the eyelashes for you. The treatment lasts 6-8 weeks because of natural hair loss and hair growth during this time. This also means that after 6-8 weeks your own curl has returned in the eyelashes. This question is often asked because it's called permanent .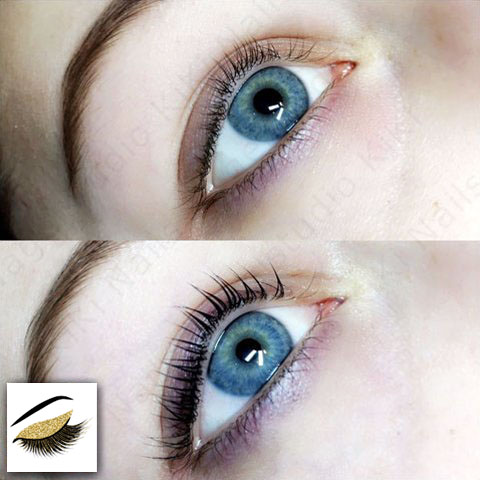 Lash Lifting - before and after example of Eyelash Lifting
The Eyelash Bar • Lash Lifting + Grow Treatment Cure
Unfortunately not everyone is blessed with a few beautiful long lashes, we have a solution for that! the Lash Lifting + Grow Treatment Cure

If you are interested in lash lifting, but your own lashes are still too short. Then you can do a combi treatment with us. You will receive a Lash Extend (No. 1 in the Benelux), growth serum. And after 6 weeks we can perform the Lash Lift treatment. The growth serum contains prostaglandin, this is an ingredient that ensures that your own hairs not only get longer, but also have a thicker structure. Because the natural hairs must respond to the growth serum, there is 6 weeks between treatment.
How does the cure for the growth serum work? Apply for the first 2 months every day, as an eyeliner on the edge of hair growth. Last month it can be applied every 3 days.
The serum ensures that the "baby hairs" grow faster and the other hairs hold longer. That is why you ultimately enjoy the growth serum for a long time. About 6 months.
The Eyelash Bar

• Opening Hours

The Eyelash Bar Amsterdam is a Shop in Shop located at Tutti Colori Nail Bar Amsterdam.
The Eyelash Bar Amsterdam
van Baerlestraat 87
1071 AT Amsterdam

☏ 085 - 876 9372

| | |
| --- | --- |
| | |
| Monday | 12:00 - 19:00 hours |
| Tuesday | 11:00 - 19:00 hours |
| Wednesday | 11:00 - 19:00 hours |
| Thursday | 11:00 - 19:00 Hours |
| Friday | 11:00 - 19:00 hours |
| Saturday | 10:00 - 18:00 hours |
The Eyelash Bar

• Prices, Book Now
• Customer Reviews
Customers who visited our locations gave the following ratings for Eyelash Extensions: